From statement brows to colorful bolds, experimental eyebrow makeup has become one of the biggest new trends in beauty. But knowing how to flawlessly create and maintain looks ranging from subtle ombré arches to dramatic penciled-in designs can be tricky. Fear not — this guide will have you creating Insta-ready brows in no time! We'll cover all the essential tips for nailing a variety of looks, including finding your ideal shape, filling in sparse hair with products designed specifically for eyebrows, mastering creative techniques like tinting and dying, plus much more. So keep reading for everything you need to know about experimenting with your brow game!
These are the coolest experimental eyebrow makeup looks we've seen
They're bold, daring, and sure to get heads turning! Whether you want to try a new shape or color or bring out your natural beauty with fun designs, these looks are sure to satisfy you.
Neon Eyebrows: For an edgy and futuristic look, why not try out some neon eyebrows? These colorful brows will make you stand out from the crowd and get people talking. Just be careful not to overdo it – too much color can be overwhelming!
Ombre Brows: Ombre is all the rage right now, and it's no wonder – this gorgeous gradation of shades is both subtle and striking simultaneously. Try it out with your eyebrows for a truly unique look.
Glitter Brows: If you're feeling extra daring, why not add glitter to your brows? A bit of shimmer will draw attention and make a statement at any party or special event.
Colorful Brows: For those who love color, why not try painting your brows in an unexpected hue? The possibilities are endless, whether it's pink, blue, green or yellow! Just be sure to choose colors that complement your skin tone and hair color for optimal results.
Artistic Design: For an even bolder look, why not try experimenting with different shapes and designs? You can create any look, from stars and hearts to floral patterns and abstract shapes. The sky's the limit!
No matter your style, there's a perfect eyebrow look for you. So don't be afraid to go bold and try something new with your makeup. Who knows – you might discover a unique look "you"!
Get bold brows with these trendy eyebrow makeup looks
From the classic arch to a subtle ombre effect, these brow makeup looks will give you natural definition and added depth. Whether for a soft look or an edgy style, these looks are sure to make your brows stand out!
First up is the classic arch. This look is all about creating a strong yet sleek shape. Start by brushing your eyebrows with a spoolie brush, and then use an angled eyebrow pencil or powder to lightly define the arch at the highest point of each brow. Finally, use a clear gel to keep everything in place.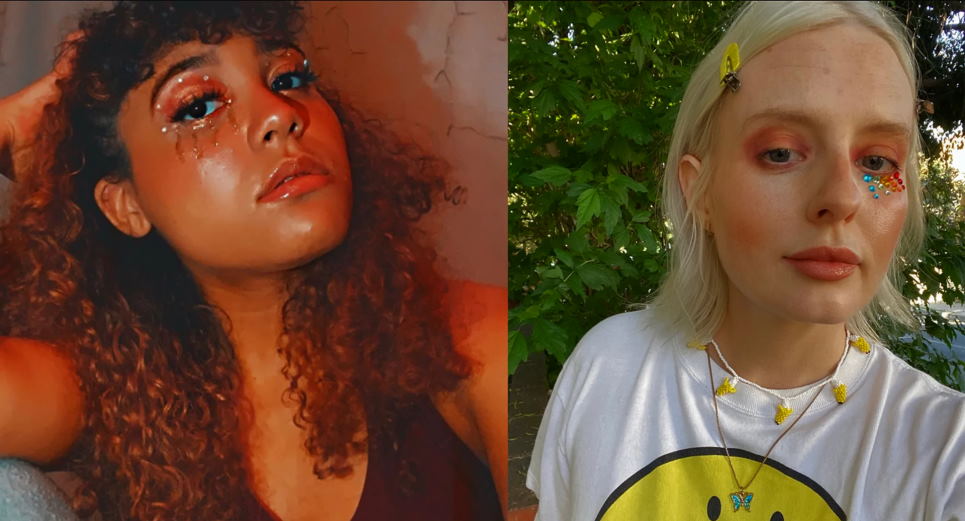 Next is the ombre effect. This look gives off a softer vibe than the classic arch but still adds definition and dimension to your brows. Begin by sweeping a light brown pencil or powder across the front of your eyebrows and then gradually blend in a darker shade towards the tail. Finish off with some clear gel to keep everything in place.
And lastly, we have a feathered look. This style creates soft, wispy strands for a natural yet dramatic look. To get this look, use an angled brush and lightly fill in sparse areas with a matching eyebrow pencil or powder. Then brush through your brows with a spoolie brush to blend everything.
These three eyebrow makeup looks will give you bold and beautiful brows that are sure to stand out! With just a few simple steps, you'll be on your way to mastering these trendy looks in no time. And remember, practice makes perfect! So have fun experimenting with different shapes and shades to find the look that's right for you.