Prom night is the one night of a high schooler's life that they can unleash their inner glamour diva and look and feel amazing. With all eyes on them, it's your chance to rock a special prom makeup look like no other. But what kind of prom makeup should you go for? Whether you want something natural or glamorous, there are many secrets behind creating the perfect beauty looks for this special evening. In this blog post, we'll walk you through the best prom makeup ideas so that you can find a look that will be as memorable as your dress and make everyone take notice of your show-stopping style!
Prom makeup ideas that will make you stand out on your special day
A glamorous prom look starts with the perfect makeup. Knowing what looks to try can be challenging, whether for a classic, natural style or a bold and daring statement. Here are some beautiful prom makeup ideas that will help you stand out on your special night:
Bold Lips – A statement lip color is an easy way to add drama to any look. Go for something unexpected, like a bright red or an eye-catching fuchsia shade. Make sure you pair it with a neutral blush and eyeshadow palette, so the focus stays on your lips.
Smoky Eyes – It's hard to go wrong with smoky eyes as they're always so classic and glamorous. Start by smudging a dark brown, gray, or even black eyeshadow in the crease of your eyelids. Then use lighter shades to blend up towards the brow bone. Finish off with several coats of volumizing mascara for extra drama.
Glitter Accents – If daring, try adding glittery accents to your look. For example, dust a bit of glimmering eyeshadow onto your lids or add some shimmery highlights on your cheeks and temples. For an extra touch of sparkle, apply a coat of glitter lip gloss over top of your lipstick.
Neutral Palette – A neutral makeup look is perfect if you want to stay subtle yet still look beautiful. Start with a light foundation and concealer, then add a touch of peachy blush on your cheeks. Finish off the look with some brown eyeshadow and plenty of mascara.
No matter what makeup look you choose, make sure it's something that makes you feel comfortable and confident. With these prom makeup ideas, you'll stand out from the crowd!
The most flattering prom makeup for your eye shape
When it comes to prom makeup, the goal is to enhance your natural beauty and make you look like the star of the show! However, what works for one eye shape may not necessarily be flattering on another. The key is to determine which techniques best suit your eye shape and then tailor your look accordingly.
For those with almond-shaped eyes, a classic smoky eye will work wonders. Start by applying a light shimmery shade all over the lid, followed by a darker color in the crease. Next, line both upper and lower lash lines with black eyeliner, smudging outwards at the corners for an extra sultry effect. Finally, curl lashes and finish off with two coats of volumizing mascara.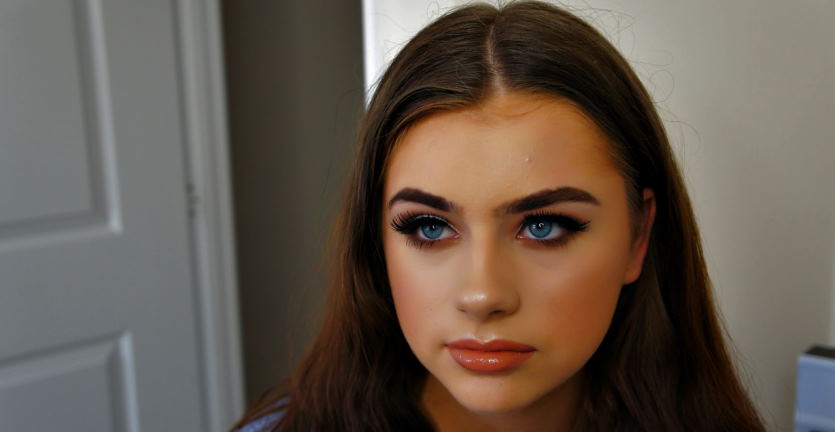 On the other hand, those with hooded eyes should go for a more subtle and glamorous look. Begin by applying champagne or gold shadow to the inner corners of your eyes and blend it out towards the center of the lid. Next, line only your upper lash line with a brown eyeliner pencil and smudge it out lightly. Finally, complete the look with a few coats of lengthening mascara and plenty of volumizing mascara.
Round-eye shapes can be tricky to work with since you want to create definitions without making them appear too small or sunken. To draw attention away from the roundness, apply light colors all over the lid, followed by darker shades along the crease and outer corner. Finish off with black eyeliner, two coats of mascara, and a hint of shimmer in the inner corner for an extra pop.
Finally, those with monolid eyes should begin by defining the crease with a medium-toned matte shade. Next, line both upper and lower lash lines with liquid liner for heavy definition and smudge it outwards at the outer corners. Next, curl your lashes, apply two coats of mascara, and finish off with a light dusting of shimmery shadow on the center of your lid. With these tips, you will surely have gorgeous prom makeup that perfectly flatters your eye shape!