When it comes to makeup, we all have different preferences. Some of us prefer a natural look that enhances our features without looking overdone or uncomfortable, while others are drawn to edgier and more dramatic looks. But no matter which camp you're in, every woman needs an arsenal of reliable go-to glamorous looks they can count on for special occasions like weddings and galas. So let's talk about how you can create sophisticated makeup looks designed to turn heads wherever you drop in! With the right techniques, products, and practice – you'll be able to use these glossy makeup tricks for any type of event imaginable.
Get the perfect glossy makeup look for your next night out
Start with a freshly cleansed face and moisturizer to help make your makeup last longer. After you've allowed the moisturizer to sink in for about 10 minutes, apply primer to help smooth out any imperfections on your skin and create a smooth canvas for the rest of your makeup.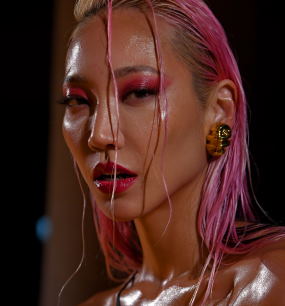 Next, take a liquid or cream foundation and blend it into the skin using a damp beauty blender or brush. For extra coverage, add concealer to any blemishes or areas that need more attention, such as dark circles under the eyes. Finish off your base by setting it with translucent powder so it won't slip throughout the night.
Now for some color! Take a metallic cream or liquid eye shadow and blend it into the crease of your eyelids to create a shimmery effect. Then apply black mascara to your lashes for definition.
Next, take a blush brush and lightly sweep some cream blush on the apples of your cheeks for a fresh-faced look. Finish off with a liquid highlighter along your cheekbones, down the bridge of your nose, and in the inner corners of your eyes to give you that extra glow!
Finally, use lip liner to define your lips and add a glossy lipstick or lip gloss for an ultra-glossy finish. You'll be ready to go in no time with this stunning makeup look!
Now all that's left to do is grab your favorite outfit and hit the town in style. Have fun and show off your amazing makeup look!
No matter what your night brings, you'll be sure to have all eyes on you with this perfect glossy makeup look.
High-shine makeup products that will give you the perfect glow
From highlighting powders and illuminating creams to glimmering lipsticks and glossy eyeliners, there are plenty of options when it comes to achieving a glowing makeup look. High-shine makeup products can add a beautiful sheen to your skin or as the main focus of your look – no matter what you're after, these sparkly picks will provide that perfect radiant finish.
Highlighter: From subtle shimmery highlighters to bold glittery illuminators, adding a hint of light and dimension to your complexion has never been easier. Sweep on a powder formula for an all-over glow or dab on liquid formulas for targeted luminosity.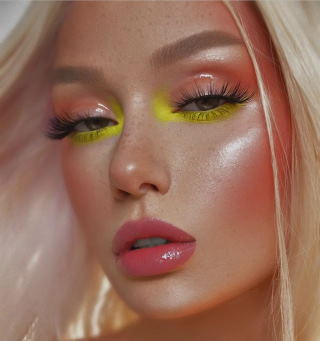 Lip Gloss: Get that shining pout with a glossy lip gloss! Whether you go for a sheer wash of color or something more opaque, these products will give your lips an illuminated look that lasts.
Illuminating Cream: Use a cream formula to create a soft, dewy complexion. Mix it in with foundation or apply directly onto the skin to instantly brighten and add radiance.
Eyeshadow: Whether you're looking for a subtle shimmer or bold glitter, plenty of eyeshadows will help you achieve that perfect high-shine finish. Go for light pastel shades for a gentle glisten or opt for dazzling metallic shades if you want an intense sparkle.
Eyeliner: Line your eyes with a hint of sparkle for a show-stopping look. Choose from liquid eyeliners with a glossy finish or opt for pencils with glittery hues to add extra shine to your makeup routine.
Lipstick: Get the perfect high-shine look with bold and beautiful lipstick. From satin finishes to metallic shades, these lipsticks will give you the perfect color payoff and an eye-catching sheen.
So there you have it – all the high-shine makeup products you need to get that glowing complexion you've been dreaming of! Whether you're looking for subtle radiance or dramatic sparkle, these products will help you achieve your desired look.